Back
July 20, 2022
How to write a Telegraph article: in the editor and with a bot
Tips on how to write an article for Telegram in Telegraph
For what purposes do most users use Telegram? For sure, it's to communicate with friends and keep track of news portals. But the functions of Telegram do not stop there, on the contrary, in 2016 the developers decided to go further and combined the functions of the messenger and social networks in Telegram. The popularity of the social network is growing every day and so in this article we will tell you how to write articles in Telegram and show you how to use Telegraf.
Content:
What is the Telegraph and what is it for
In 2016, the Telegraph content creation service emerged. It is based on the markdown web language, which allows you to create lightweight content for publications. This platform will help you to create articles with photos, videos and other embedded elements. Telegraph can be used by anyone without prior registration and specifying personal information, which allows the user to remain anonymous. Let's take a look at what features it has.
What opportunities the new platform offers for bloggers
The developers claim that the service has all the features to present information as the media does. The Telegraph has a whole set of features:
change the text (italic, bold);

bulleted and numbered lists;

highlight quotations and statements;

post illustrations and images;

to stream clips from YouTube;

unfollowing posts from Twitter.
Such function as Instant View (in the Russian version — "Read more") allows you to view materials created using Telegraf, it unfolds the content in the dialog window of the channel or chat. The main purpose of this feature is to make it easy to explore information, for this you do not need to leave the messenger to see the original source.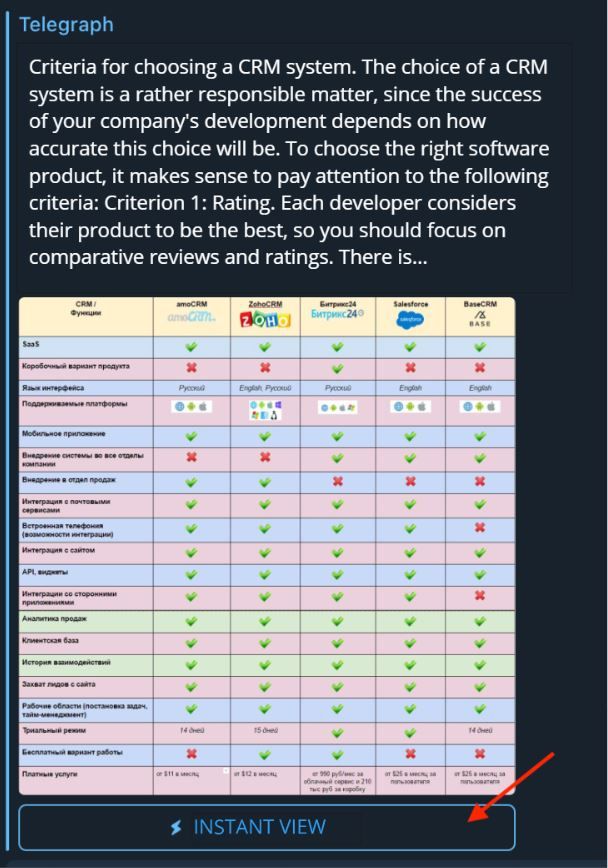 Such articles do not differ from standard media publications in appearance, but their anonymity and possibility to view them without leaving messenger opens new opportunities for blogging and commercial projects.
Getting started with the Telegraph: How to write an article with it
To get started with Telegraph, go to the Telegraph website. The page does not contain any information other than: Title, You Name, Your Story

Title

— post title. It is formed from the date of creation and the title of the link publication. The link will be needed for further work on other resources.

Your Name

—

here you can use your name, nickname, pseudonym or leave this line blank. Stay incognito or specify yourself as the author — the choice is yours.

Your Story

—

is a section for your content, here you can post an article and all the materials attached to it. Make adjustments to the text, add lists, illustrations — everything mentioned above.
To write articles, you can use help services, such as ReText.AI. With its paraphrasing function, you can quickly improve the uniqueness of already written texts — this will help you save time and write posts in 2 times faster or, summarizing — short announcement of articles of large size. It can be adapted immediately for Telegram.
Here are some tips when editing text in the Telegraph:
Inserting an image. It is possible to add along with the text or after clicking the camera image button. You can add a caption to each illustration if desired
Adding a video. You can extend your content with videos from YouTube, just insert the link
Edit text. To modify parts of the text, select the part you wish to modify by italicizing it, then a menu will appear and select the desired modification: Bold/italicize, title, quote
Creating lists. To start numbering, put a number followed by a space and the list will be automatically generated
Using a bot for Telegram publishing
As you can see, there is nothing complicated about creating an article in Telegraf. But there is one disadvantage — further editing of the article is only possible on the same device and in the same browser in which the text was originally written. Therefore, the developers did not stop at the Telegraph service and created a bot @telegraph to manage your publications.
Let's see what he can do:
Authorize in the Telegraph from your account.

In this case you can create entries from any device and have access to editing

Statistics on views of each post including conversions from other resources
Ability to specify a permanent nickname and link to the profile. Another feature for the convenience of users so that they don't have to specify each time they create content
Instructions on how to run the bot
Look for the bot in the Telegram search bar

@telegraph

and launch it by clicking "Start".

Now you need to select an account to attach it to Telegraf. Select "Log in as (this will be your name) on the device".

When you switch, you will be taken to the Telegraph editor window. Here the user name will be automatically added, but as we have already said, you can change it or leave this box empty.

Now you've added the content, press the "Publish" button and go back to the bot in Telegram.
Here you will see a new notification with the number of new posts. Click on "My posts" and the bot will give you the text of your article:
Now all that's left to do is to click on "Share post" and select the channel to post:
Conclusion
Telegram isn't just a social networking app, it's a social network that's attracting more and more users every day. You can use the tips in this article to tell a brand story or blog more extensively.