Back
August 24, 2022
How to write texts for social networks
Instructions for choosing sites and content format + secret tool ReText.AI text summarization online to adapt posts to different social networks
How to write in social networks and should one write for each network separately? Crossposting - good or bad? And how to do without it. In this article we will try to derive an algorithm for creating high-quality text content for social networks.
Content:
What to write about. Topics for posts
While still on shore, it is worth determining what the main message you want to convey to the world and for what purpose. When you have decided, try to imagine, literally visualize: the user comes to your resource and what he sees, what emotions he should feel. This is roughly what internet marketing calls a concept.
Who to write for. Target audience
It is important to understand who your user is and why he should come to your page and not a competitor's. It is interesting to write a portrait of a representative of your target audience. Determine not only age, gender, geography, profession, income level. But also think about his habits, interests, hobbies, manner of communication. Imagine a living person, maybe in a beret with a pompom, get acquainted with him.
An example of a portrait of a representative of the target audience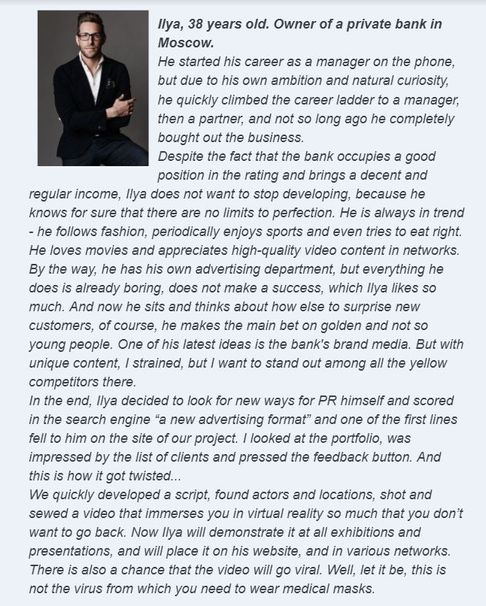 Where to write. Choosing a social network
Now it's time to choose platforms for self-expression.
Different social networks have different target audiences - the very user who is supposed to admire you. It's not hard to explain: It's unlikely that a teenager follows the business pablics on Facebook¹, nor is a sweet old lady subscribed to anime memes on VK. Therefore, it is important to understand what patterns of behavior are inherent to the user. What format he is used to receive information in. What style of presenting information is closer to them.
Consider different social networks and their target audience:
Facebook¹.

According to Statista, the majority of registered users are between 35 and 54 years old. Women and men are about half and half. Among them there are a lot of executives, top managers. Facebook is believed to be used more often than other social networks for business communities and professional communities. They like big articles on serious topics here.

Instagram¹.

The main age of the users is

18 to 24 years old (30.29%) and 25 to 34 years old (36.68%).

There are more women living here. And therefore the theme is not as businesslike as on Facebook, but more about lifestyle. In general, it sells what is beautiful and useful. High-quality photos and videos are a priority, and there is a general focus on the visual.

VKontakte.

According to Brand Analytics, the majority of users are 25 to 34 years old (29%) and 35 to 44 years old (21.8%).

It is important to emphasize that the audience of the social network has grown in 2022. Now not only users go here, but also businesses. The platform is particularly loved in the regions. Among the popular formats are short posts + photos. VK clips are gaining momentum.

Telegram.

Back in 2021, Telegram was used primarily as a business messenger for

IT specialists, salespeople and marketers.

The core audience was made up of men from 18 to 34 years old with an above-average income.

In 2022, the audience is gradually shifting towards a more general audience - with the influx of new users in February-March, demand for news, brand channels and bloggers increased.

Twitter.

An American social network and microblogging service with the ability to publish posts of up to 280 characters. The two main pluses are speed and globality. Twitter is relevant to those who need to know the world's news first-hand and at the same second. The social network is not particularly popular in Russia, with only 690,000 active authors.

Youtube.

It is the most popular video platform among Russians - 85% of Internet users aged 16-64 use it. There are videos of any genre on any subject, without exaggeration.

Pinterest.

A beautiful social network for inspiration. Pinterest suits blogs and brands whose services and products can be presented visually. 60% of its users are women. But the audience of Generation Z pinners is growing steadily.
How to write to different social networks at once using text summarization
Sometimes audiences of different social networks overlap. This does not mean that the person came to Facebook¹ exactly the same thing he was looking for in VK. Perhaps some information is easier and more enjoyable for him to absorb in a more entertaining format. What are you going to do? Generate a content for each site, which is not easy, or adapt the publications for different social networks. Yes, this is work again. But there are technologies that can help.
The smart copywriting service ReText.AI has a new feature in 2022 - text summarization. It is an opportunity to shorten text without losing its meaning. There are presets in online summarization - narrow settings for different social networks. You just need to insert the text in the left window of ReText.AI, select the preset and type of publication in the right field and click the "Summarization" button.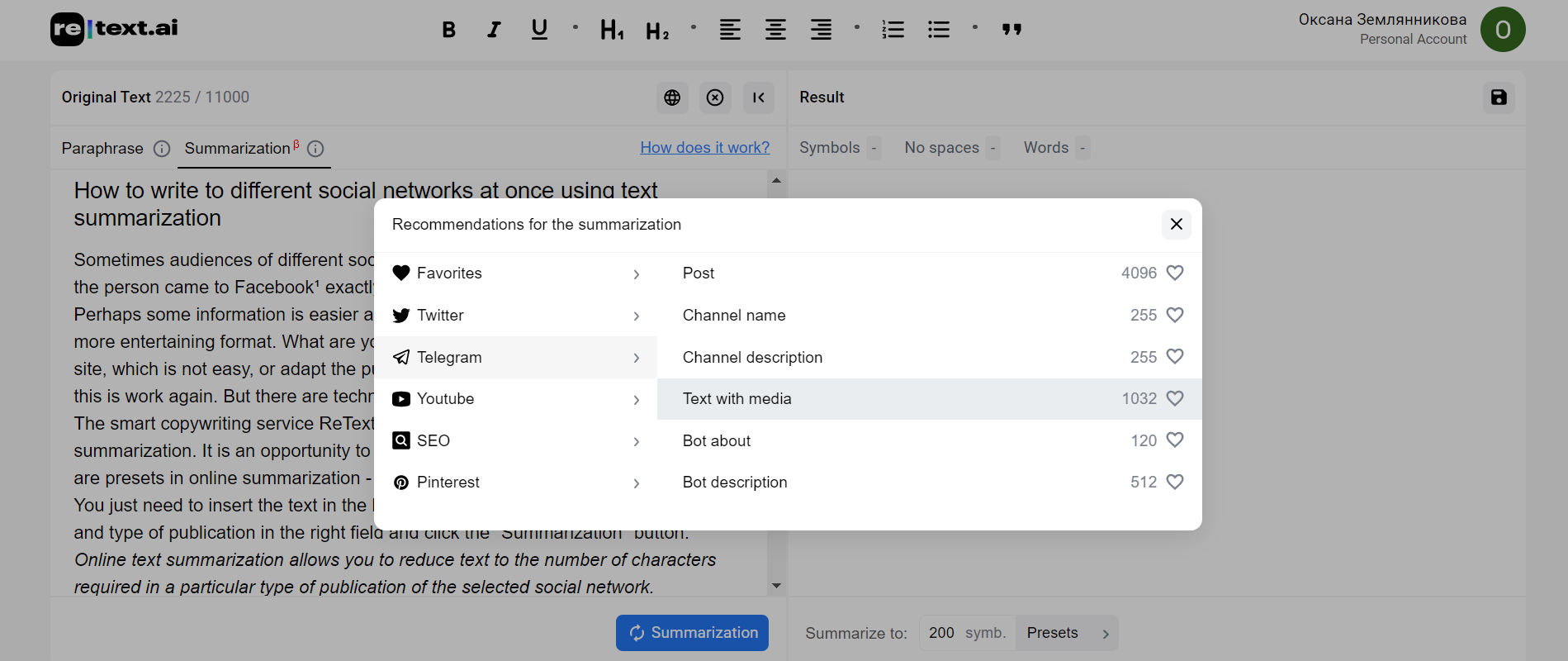 Online text summarization allows you to reduce text to the number of characters required in a particular type of publication of the selected social network.
How much to write. Post size
There is no one right answer to the question. It all depends on your talent, genre and goals of the text. So, armed with common sense and inspiration, write what we think. And then abbreviate. First, to remove unnecessary "water". Then - to fit into the format of the chosen social network. Remember, you can always ask for help from the artificial intelligence of ReText.AI - use text summarization. And even if you have used all the above techniques and your post for Telegram came out of your pen with exactly all the allowed 4096 characters, think about whether your audience will want to read so many letters.
Conclusions
So it turns out that the formula for ideal content for social media has not yet been discovered. It is important to know exactly who your target audience is and where they live. The content should fit harmoniously into the selected resources and be understandable to local users. If you don't create content for different resources, you can adapt it. They have even created handy tools for this in the form of text summarization. Good luck with your experiments!
¹ - Owned by Meta - recognized as extremist and banned in Russia