Back
August 30, 2022
Services for copywriters: rewriting, spell checking, article design
A review of useful resources for working with commercial text. Yandex.Wordstat, ReText.AI, Glavred, Orfogrammka, Word Association Network, Text.ru.
A good copywriter knows that the word works wonders. For businesses, miracles are indexed into profit. Commercial texts create a brand image, work for its reputation, deliver the USP, bring new customers and keep regular ones.
An effective sales text must meet the requirements:
Usefulness and relevance

Simplicity of presentation

Technical parameters - uniqueness, water content, nausea.
In this article let's analyze which services will help bring the text to mind.
Content:
Usefulness and relevance
A copywriter works to make the text sell. But it should also be useful, answer the questions you care about, and be relevant. The text will be read by more interested users if keywords are chosen for the most popular search queries.
Enter the word or phrase of interest into the service's search bar and see how often these words are searched for in Yandex by users. In the adjacent field, similar options will be highlighted, they can also be used as keys, but there is a subtlety - irrelevant queries may also come across here. Therefore, for the purity of the forecast, you need to use special Wordstat operators.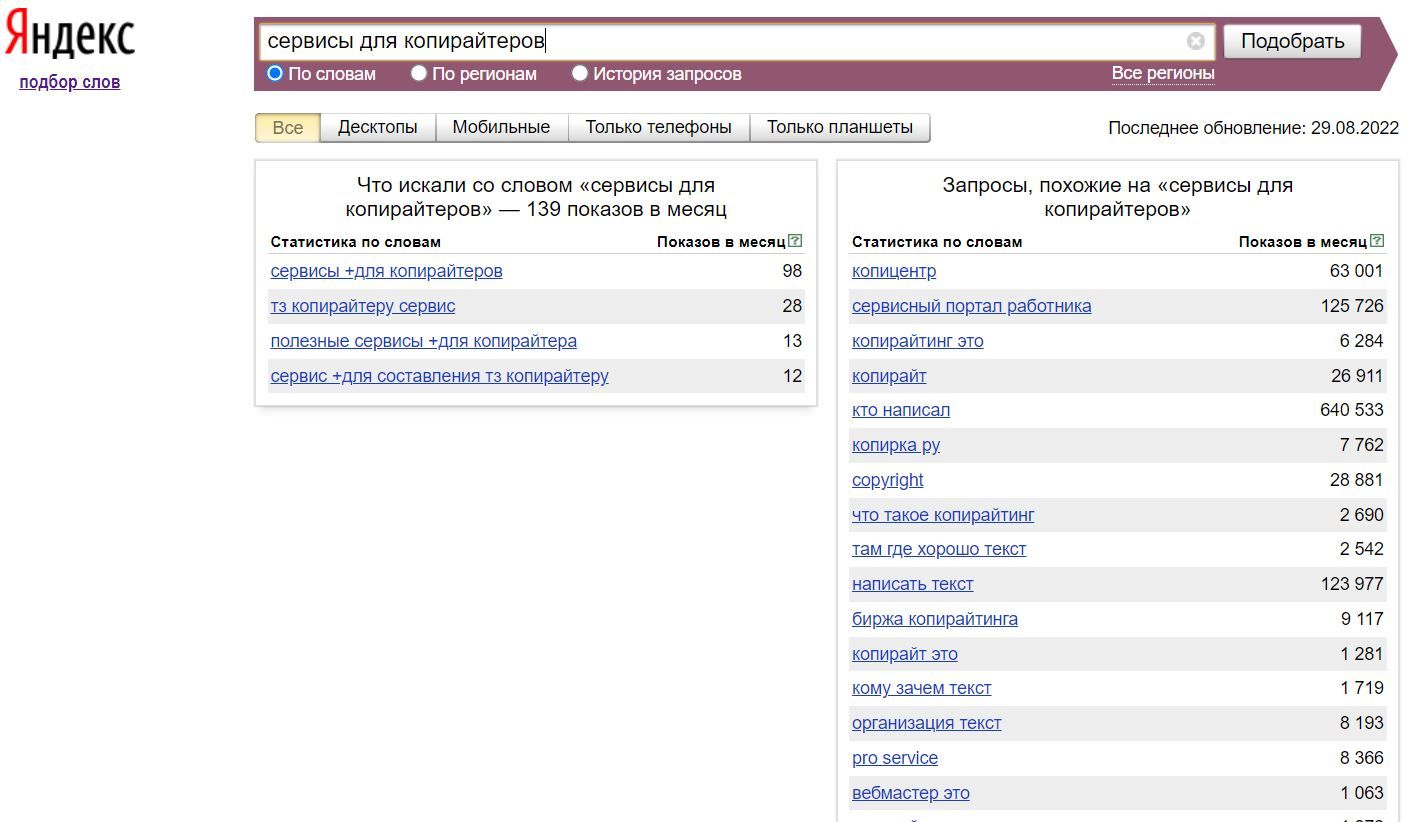 Simplicity of presentation
In order not to get hung up on keywords, but to have an interesting and unique product as a result, you can "play around" with the finished text, rewrite it. Not by hand, of course.
ReText.AI.
- paraphrasing text based on artificial intelligence
Smart copywriting service ReText.AI can completely rephrase any text. It differs from the similar ones by its artificial intelligence and summarization function - It is an extract from the text with the ability to set the required number of characters, while maintaining the main idea, in case you still can't get up to speed.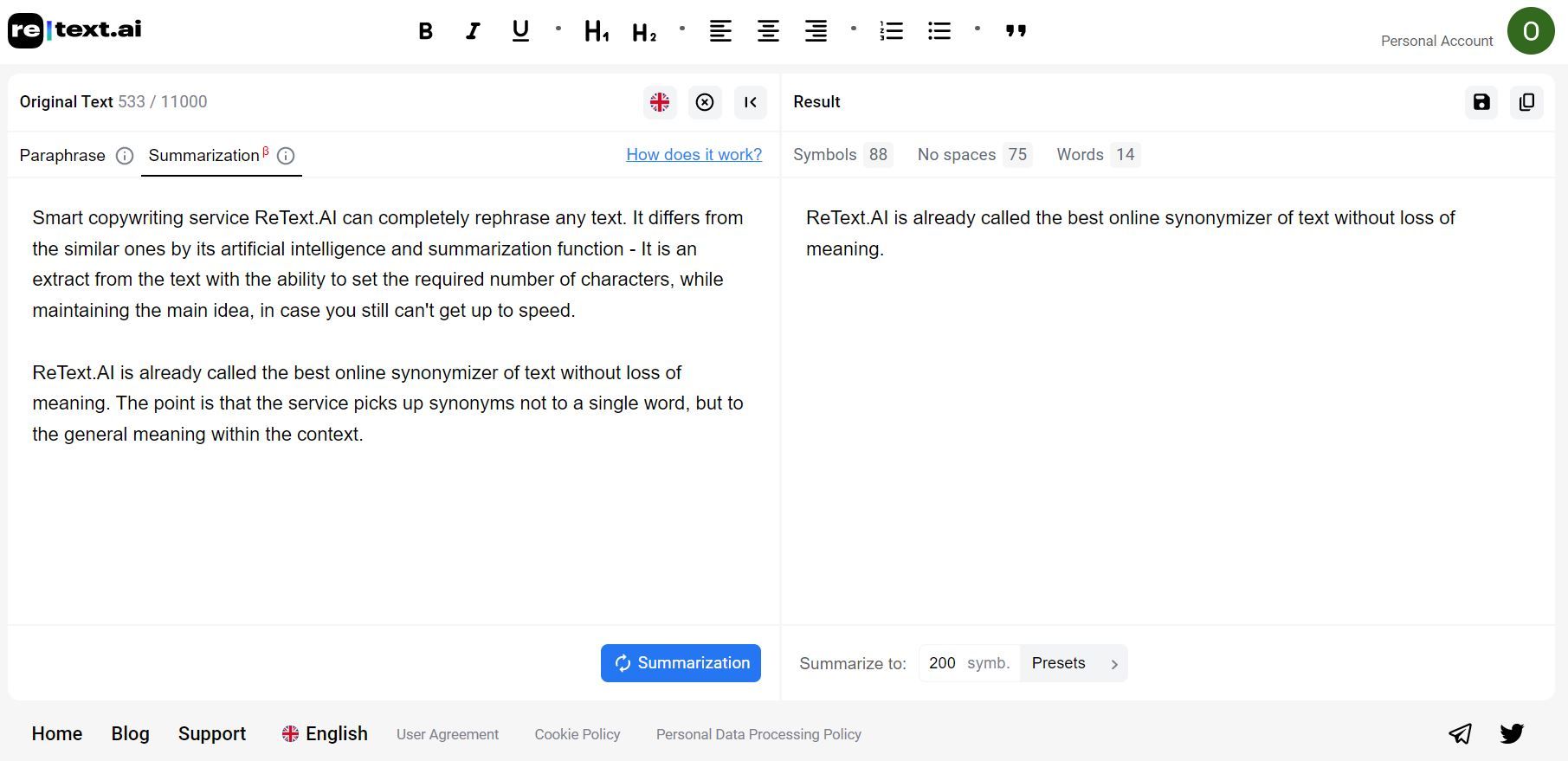 ReText.AI is already called the best online synonymizer of text without loss of meaning. The point is that the service picks up synonyms not to a single word, but to the general meaning within the context.
Moving on. Even a strictly professional text should be pleasant and easy to read. Without unnecessary water and verbal clutter.
Glavred
- clearing text from verbal garbage
There are 2 functions in the service :
purity - will show and help get rid of weak verbs, extra pronouns. He will ask you to justify definitions like "best", "most" with numbers, ask questions on the generalizations found.

readability - against complicated phrases, clichés and clumsy syntax.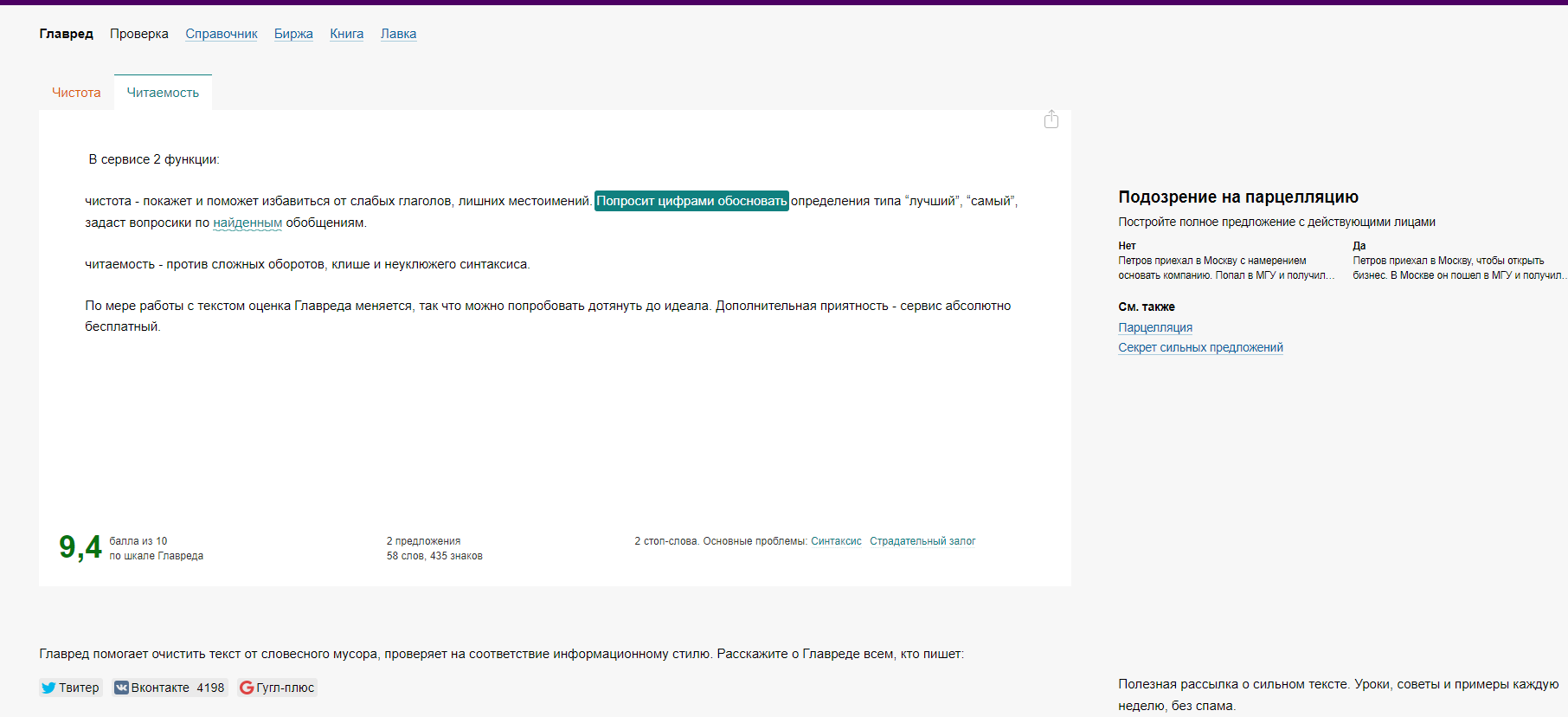 As you work with the text, Glavred's assessment changes, so you can try to reach the ideal. An added bonus is that the service is absolutely free.
Orfogrammka - spelling and punctuation check
Simple and reliable service. Insert the ready-made text in the field and different colors highlight errors in spelling, grammar, punctuation, stylistics, semantics and typography.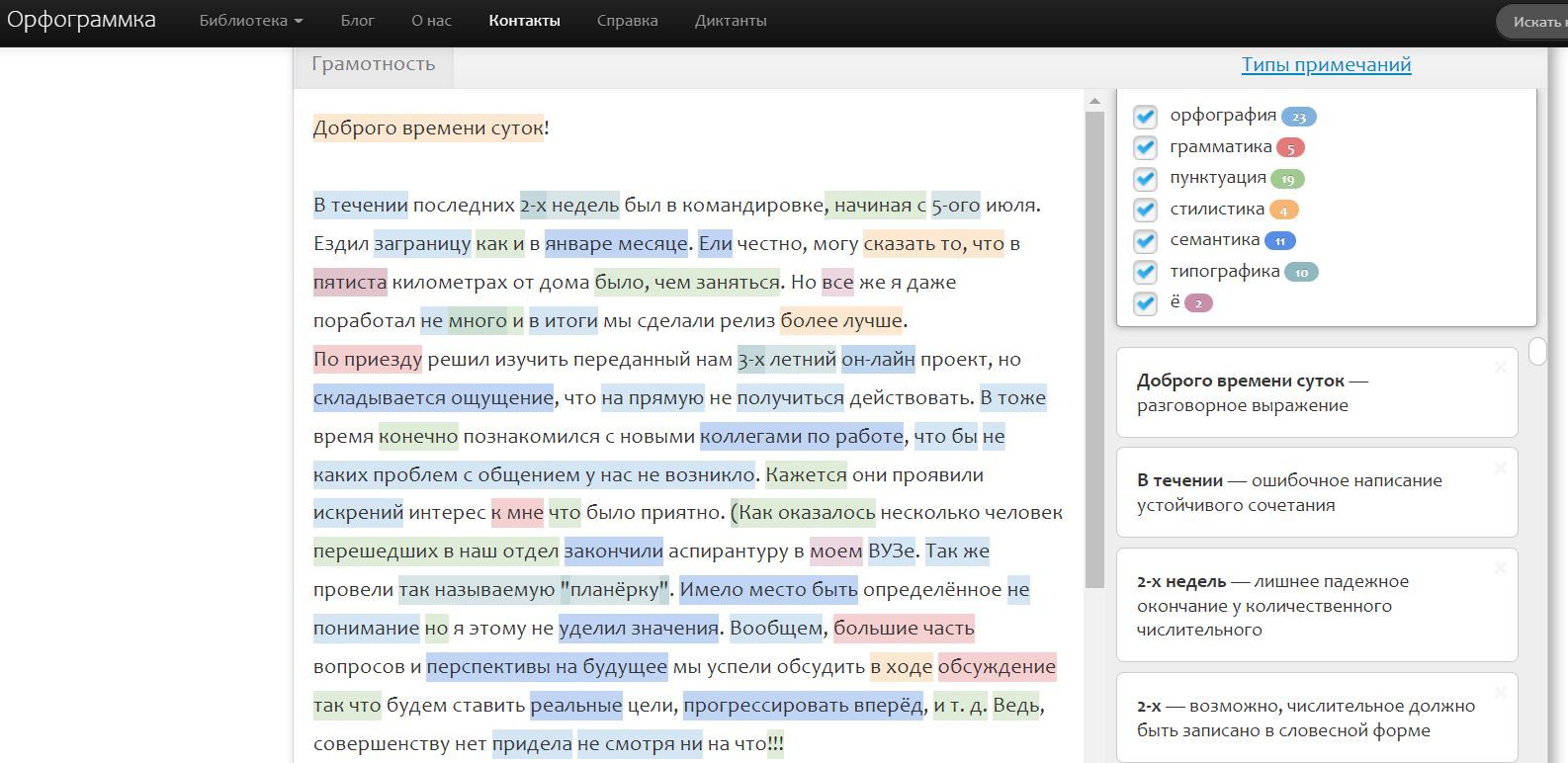 If you hover your cursor over the highlighted error, the service will explain and provide advice on how to fix it.
Another pain of a copywriter - when you've been working in the same subject for years, willy-nilly you google for the best free online text synonymizer. There is a choice. But we won't repeat ourselves and suggest looking at the question more broadly.
A fun tool to develop imagination and an unconventional approach will help you look at the text from a different angle.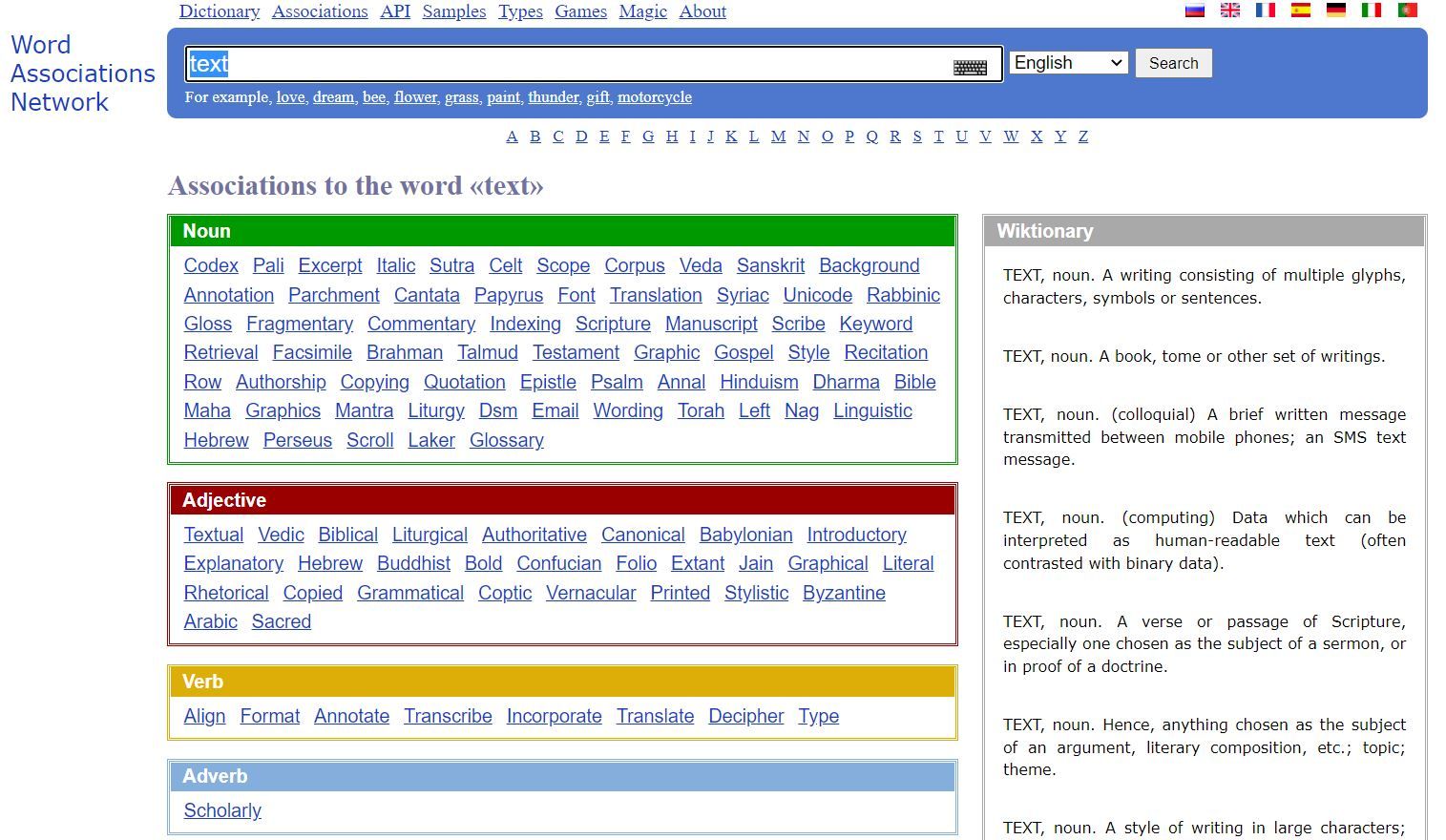 The simplest word here has associations in the form of nouns, adjectives and verbs, using which the text can sound in a new way. By the way, associations can be played in different languages.
Technical parameters
The technical parameters include uniqueness, water content and nausea. Let's run through the terminology.
Uniqueness is a measure of the frequency of occurrence of what is written on other resources. The algorithms of search networks will not look into who wrote first, but simply will not show texts with a low percentage of uniqueness in the output. Well when more than 85%.

Water content is the percentage of the content of words that do not carry an information load. This indicator should not be equal to zero, different services set their own requirements for the percentage of water in the text.

Nausea can be classical or academic. Classical - estimation of the number of repetitions of keywords and phrases, and here it is important not to overdo it. The norm is in the range of 2.7 - 7. Academic nausea is about repetition of words in principle. The norm is from 5 to 15%, the middle is gold, the text should look natural.
Text.ru
- SEO validation
The service will count the number of words and characters, indicate design errors such as open quotes, typos, repetitions of letters. The service automatically calculates the uniqueness indicator and highlights the semantic core of the text. As for water - up to 15% service considers natural, 15-30% - excess, more - even worse. Spammed text with a score of 30 to 60% is considered SEO-optimized.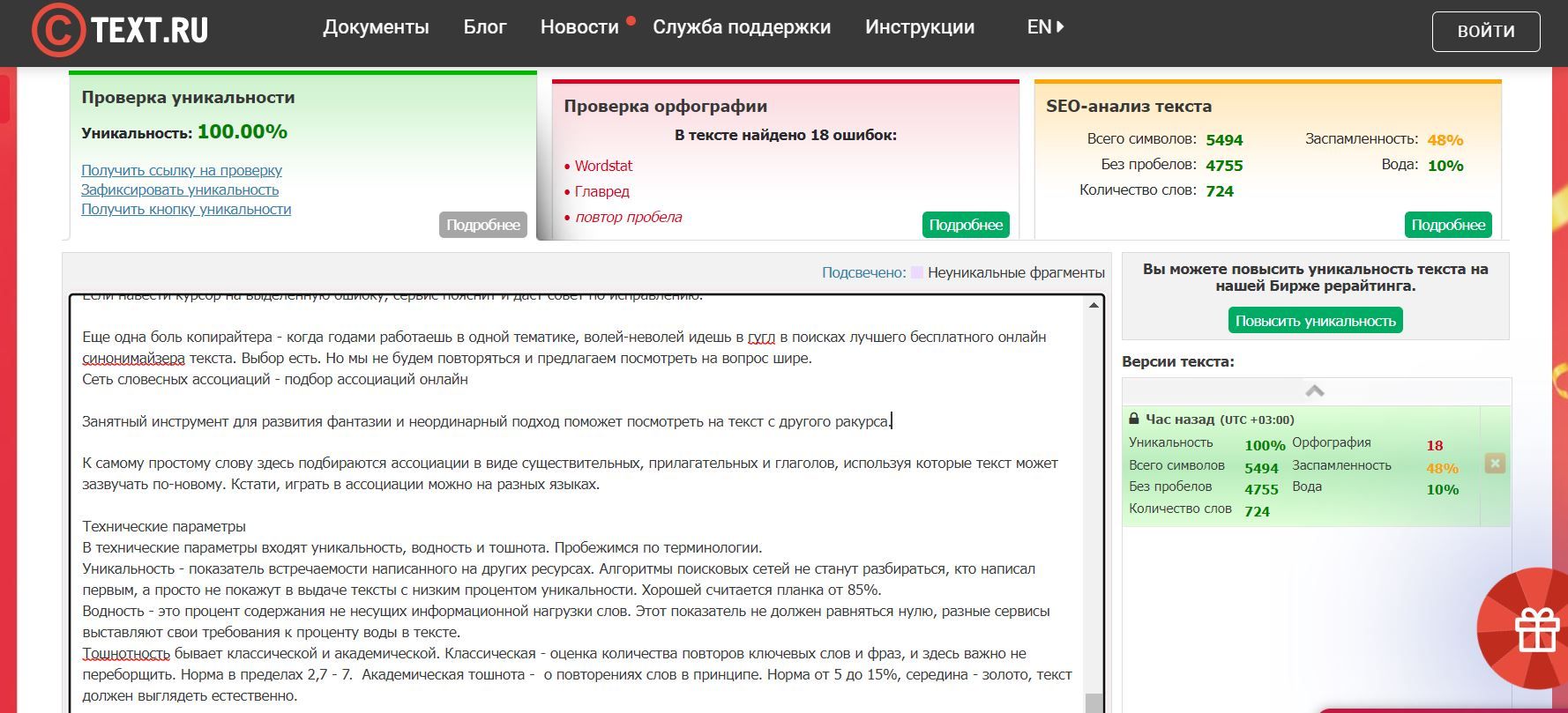 Conclusions
We have reviewed the services that are useful for a copywriter - they have different functions and add-ons. With their help, you can format the text, edit it, completely paraphrase it, and check it for various SEO parameters. However, it is worth remembering that even the best online synonymizer with text correction cannot replace good human creativity. That is why we do not stop in professional development, we study new things and are not afraid of experiments.