Back
May 23, 2022
How to write a term paper quickly
How to write a term paper and pass an anti-plagiarism check
A coursework is a student's scientific work, his or her independent reseach as a result for a year or a semester.
Every year the requirements for writing the final work is changing, now to get a "pass" from the teacher's students are required to literacy, accuracy in the design, relevance to the topic and the main indicator - the uniqueness of the text.
In this article we will tell you how to write a term paper quickly and pass an anti-plagiarism check.
Content:
Algorithm of coursework writing
The student has a few months to complete the coursework. You should not leave everything to the last week, because it is a considerable amount of work. Consider the stages:
topic selection

selection of sources and materials

write out the contents

coordinate a draft with the teacher

write the introduction, the main body, the conclusion

teacher verification

elimination of errors, remarks

teacher's review, uniqueness assessment
Each stage takes a certain amount of time. And it turns out that a few months is not as long as it initially seemed.

But today we're going to tell you about a method that will help you to write a term paper quickly..
How to write a term paper without plagiarism
Choose a topic for your term paper
Choose a topic that arouses your interest. We suggest using this tip: take the topic of your previously written essay and continue the research. For example, you wrote about the different temperaments of man and their characteristics. Take a related topic: "The impact of human temperament on his character and position in society". You will reduce the time for the theoretical part and begin immediately to build hypotheses.
To write a term paper faster, you need to prepare a plan. Structure of the term paper:
Introduction

Theoretical part

Practical part

Conclusion

List of references

Annex (if any)
An outline will help you follow the structure of the text and present your thoughts in a step-by-step manner.
Select sources and compile a list of references
Use online libraries: elibrary.ru or cyberleninka.ru. You can find articles, abstracts, as well as electronic versions of scientific publications on the topic of your choice.
Proceed to writing the theory and practical part of the coursework
The key point is the lack of time. To write a term paper quickly and, most importantly, to pass anti-plagiarism check, use online text rewriting software.
If before you had to download a program for rewriting, now you just need to follow the link ReText.AI, add the desired text and the paraphrasing service will process the information online: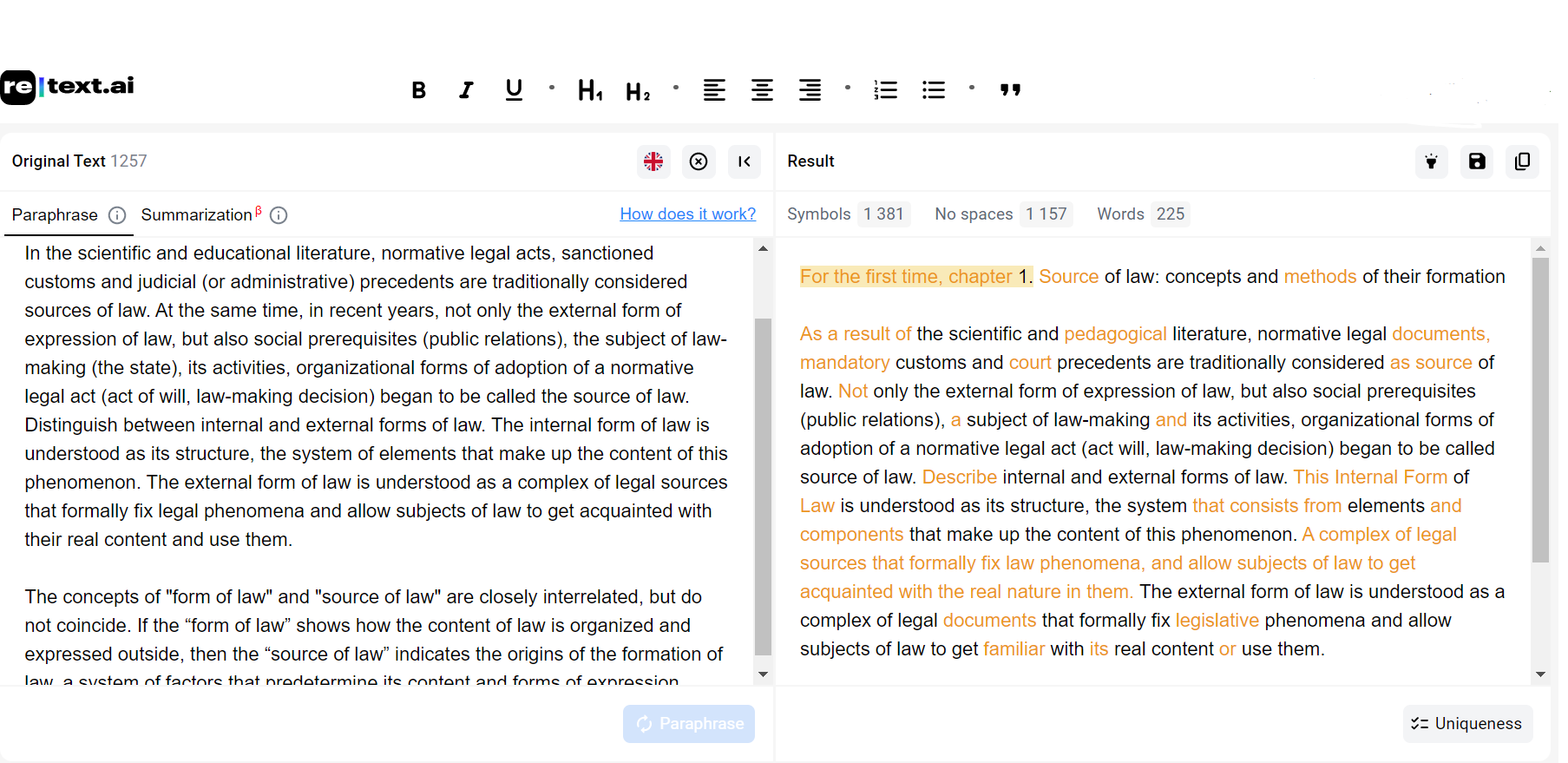 The finished text could be checked for literacy using orfogrammka.ru and here your main and most difficult part is done.
Write a conclusion to the term paper
When writing the conclusion you can rely on yourself, here you summarize and express your thoughts. Briefly describe your goals and objectives from the introduction, what conclusions you came to, and most importantly, what new things you learned that have not been discovered before.
Checking text for uniqueness
ReText.Ai is not only an online text rewriting program that you can use for free - it is a real anti-plagiarism killer.
After paraphrasing, you can immediately check the text for uniqueness in one click:

Texts are tested for uniqueness in the programs Anti-plagiarism and Blackboard.
Design requirements in 2022
Your term paper is ready, now all that is left is to format it correctly. The text should be corrected according to these parameters:
Font - Times New Roman

Font size - at least 12 pt

Width alignment

Paragraph - 1.25 cm

Adjust the document margins correctly in advance: at least 3 cm on the left, 1 cm on the right, and 2 cm at the top and bottom
Results
Let's summarize how to write a term paper quickly without plagiarism:
Choose a topic of interest to you

Select sources and literature

Write a plan

Paraphrase text with ReText.AI

Check your literacy on orfogrammka.ru

Check the uniqueness

Draw conclusions and write a conclusion

Turn in your work and get the highest grade