If you work as a journalist, write commercial articles or run your own blog, you are probably wondering how to automate your work. How do you quickly and well write a rewrite? How to quickly spread posts on all social networks, reducing the text in volume, but without losing meaning? What is the best way to check the uniqueness of a post? All this can be done with the help of our service.
Rerate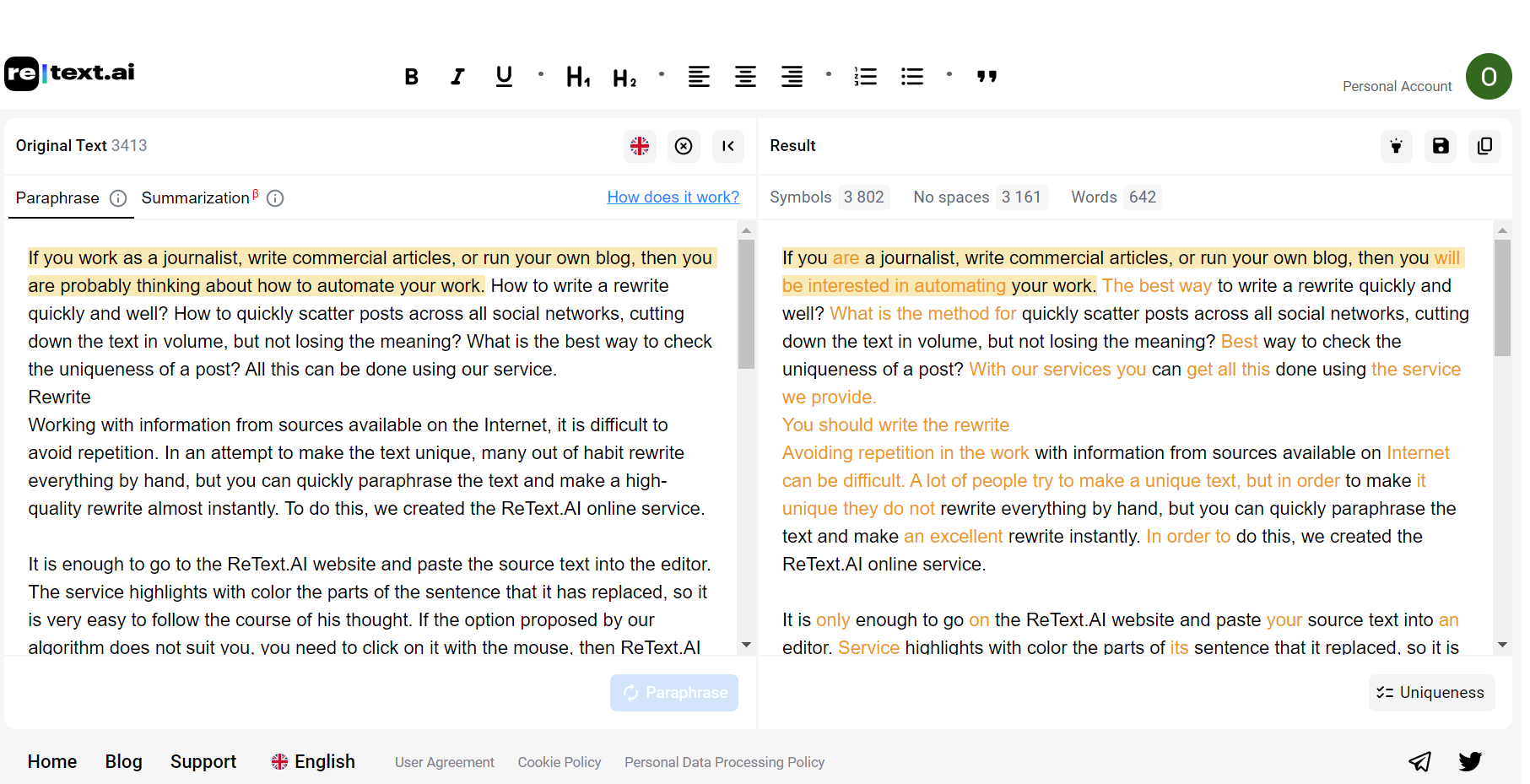 When working with information from available sources on the Internet, it is difficult to avoid repetition. In an attempt to make the text unique, many people out of habit rewrite everything by hand, but it is possible to quickly paraphrase the text and make a high-quality rewrite almost instantly. For this purpose, we have created online service ReText.AI.

All you need to do is to visit ReText.AI and insert the source text in the editor. The service highlights the parts of the sentence it has replaced, so it is easy to follow the process of its thinking. If the suggested by our algorithm version is not satisfactory, you need to click on it, and ReText.AI will instantly offer an adequate replacement. The algorithm works very quickly, almost instantly producing a rewrite of the text and saving the user's time even in free mode.
Summarization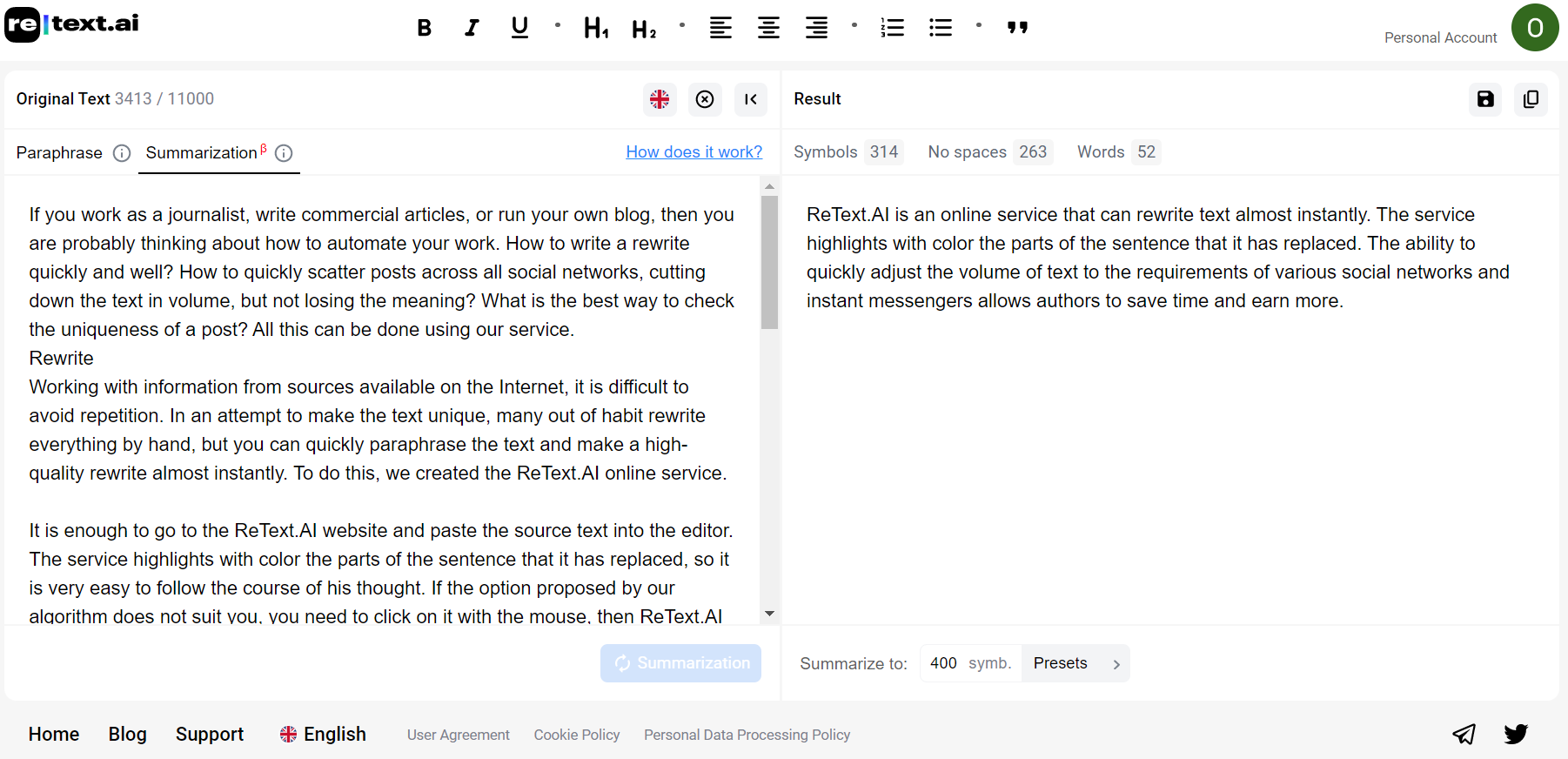 The ability to quickly adjust the volume of text to meet the requirements of various social networks and messengers allows authors to save time and earn more. But what about the newbie who spends hours with one post or the professional commercial writer whose day is literally scheduled by minutes? Go to ReText.AI, copy the original version of the post into the left window, and then enter the number of characters you need in the output. The result generated by the algorithm will appear in the right window.
Free of charge you can process up to 900 characters, All ReText.AI features are available after registration and payment for the appropriate tariff. Now there are three of them: for 100,000, 500,000 and 1,000,000 characters. Subscription costs 399, 499 and 799 rubles, respectively. For this amount of money, the user gets the ability to work with large texts, saving and editing them. A paid subscription also opens up access to an online editor with the option of checking uniqueness.
Uniqueness check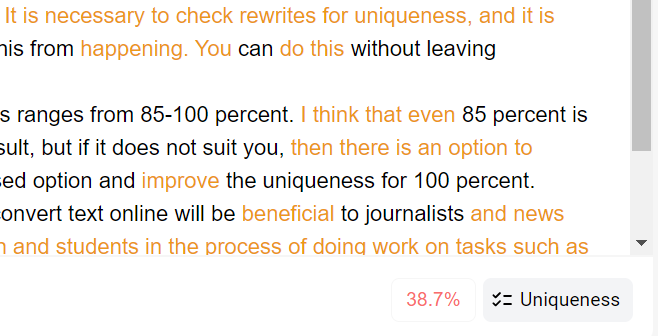 Even a large and interesting text should be unique, then it will be appreciated not only by regular readers, but also by casual visitors to the blog, which over time will only increase. To the uniqueness of the text are very sensitive and search engines. If it is written in whole or in part repeats what has already been published on another site, it will have a negative impact on the search. A site with non-unique content is considered "trash", and search engines do not pay attention to it. To avoid this, you should carefully check the rewrites on the uniqueness. This, too, can be done without leaving ReText.AI.
Typically, uniqueness ranges from 85-100 percent. Even 85 percent is considered to be a good result, but if you are not satisfied with it, you can always choose another paraphrased version and increase the uniqueness to 100 percent.
The ability to quickly convert text online is useful for journalists in the preparation of articles and news articles, schoolchildren and students when doing their homework, advertising, working on different sites, and many other professionals whose work is closely related to the writing of texts .